We try to go camping as much as we can every summer, especially near the sea when we can as we love snorkeling and free-diving. This year we have not been to the sea as often as previously however we have still had some great camping experiences.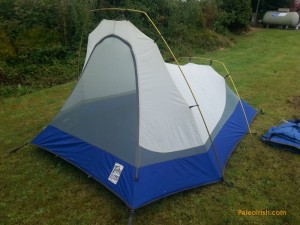 Last month I went to the International Taoist Tai Chi workshop in Foxford, Co Mayo and I dusted down my old tent to go solo camping. I really enjoyed sleeping on the ground and listening to the sound of the rain on the flysheet. The fact that the rain stayed on the outside of my tent added greatly to my enjoyment. My newest tent is almost 20yrs old so I wasn't sure that it would still be weather-proof however buying good gear has always paid off especially when it comes to hiking and camping. I store the tent in a large home-made breathable bag which also helps it to age gracefully.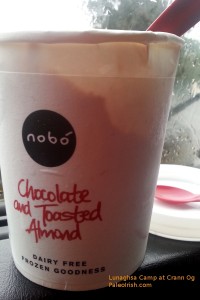 Last weekend we did some van camping which is our usual habit. We went to Crann Og, a lovely organic farm near Gort, in Co Galway for a small community event "The Lunaghsa Fair." We arrived along with some others on Friday evening to help with the set-up of the structures for the weekend and the main event was on Sunday.
We brought  a treat with us for our hosts, an Irish vegan paleo ice cream called Nobó which was really yummy. Of course we had to try it out in the rainy car park outside the shop to ensure that it was edible and there was still enough left for six of us to enjoy when we arrived at Crann Og. I love the name of this ice cream, bó is the Irish word for cow so it means "no cow".
About two hundred people came on Sunday to enjoy the Fair, we had many different workshops on offer ranging from massage and cranial sacral therapy to wood carving with draw knives. There were games galore for both young and old and great food all day with the home made pizza oven and barbecue getting fired up in the afternoon. The event finished with a fiery flourish – a great display of story telling with fiery effects. For the full effect check out Crann Og's facebook page.