Last weekend we went van camping again, this time to the All Ireland Permaculture Gathering which was hosted this year by wonderful farmers in Co Tipperary.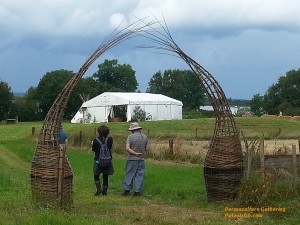 There was so much work done by members of the organising group before any of us arrived. Large tents  and marquees were set up for the many workshops that were going to happen over the weekend.
Toilets and hand washing facilities were organised and scrupulously managed for the entire gathering. The facilities were not only kept clean but incense was lit, fresh field flowers were placed there and safe night lights were managed at night.
Kitchen spaces both for serving, preparing salads and cooking over two large fires were build and sheltered eating spaces were arranged.
It is not necessary to be signed up member of any group to attend this event, whilst many of the attendees do know each other from Permaculture courses or from working together in previous years, others attend to learn about growing food or to learn about permaculture systems.
Attending the gathering is a great opportunity to learn something about permaculture as well as meet some really nice people, have fun camping in a family friendly environment, eat some really good veggies cooked outdoors on a fire, sing a song, learn a tune.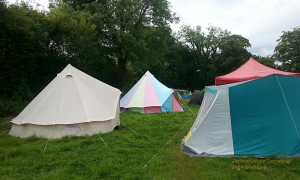 Although we do not currently grow food ourselves (unless you count the basil growing in a pot on the kitchen windowsill) we were welcomed warmly. We were also invited to run a workshop so we choose the subject of Off-Grid Living as a discussion topic and were delighted that so many people came along, we had a lively discussion and hope that we helped shed a little light on the subject.
Workshops were held on many different subjects, people simply decided what they wanted to discuss, to show or to teach and picked a time slot and a suitable venue from the workshop organising chart. We attended some fun workshops, I have still to finish the spoon that I started to carve at the Wooden Spoon Carving Workshop.
I picked up some wood carving tricks as I have never worked on such a small carving project before. I am accustomed to carving the wooden blades for domestic wind turbines so a spoon was a quite a difficult challenge for me and one which I relished. I learnt some good tricks for using and moving a small knife blade and had the opportunity to use a great variety of different carving knives which I really enjoyed.
Some workshops were very practical and others were lively discussions. Some titles that I remember were green building, living in a tiny house, cheese making, hugelbeds, regenerative agriculture and willow/rush weaving.
All the food was cooked on site using vegetables which were grown by the attendees so we were guaranteed that the veg was all fresh, organic and GMO free! The camp cook Sue had many able helpers throughout the weekend to help her with chopping and stirring as she oversaw the large task of feeding everyone on site. We have always asked Sue to cook for our own residential Wind Turbine Workshops and she delights in cooking for large hungry groups and absolutely loves cooking outdoors on the fire. Sue can cater for any event so if you would like to get in touch with her please leave a comment here and I will put you in contact with her. She is happy to cater for Paleo eaters too as she is familiar with no grain, no refined  or processed foods and usually eats low carb herself. Hopefully Sue will soon have a website up and running and when she does I will link it here.
Being Paleo meant that I had to take some responsibility for ensuring that I got my protein fix so I brought along some good quality Irish ham, rashers, eggs, goats cheese, cooked beetroot and tinned fish to supplement the wonderful vegetarian stews. Two nights before we were due to leave I placed two 1litre bottles of water in the freezer at the house I was visiting in for the week. When we were packing for our trip I wrapped each of the frozen water bottles in 2 sheets of newspaper and then placed each one in a plastic bag so that as they defrosted they wouldn't wet anything. The bottles were placed in my cool bag and they remained partially frozen for two days helping to keep my protein fresh and healthy. The newspaper served the dual purpose of retaining the coolth (is that really a word?) and also to prevent freezer burn on my food.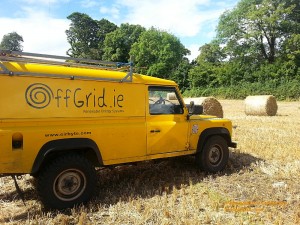 The Gathering was such good fun that we hope to attend again next year. It was great to be surrounded by people who were all interested in doing things, not just talking about doing things as is so often the case.
This was a field full of do-ers which was a delight in itself. The event was drink and drug free and was family friendly. In the evening people sat chatting after dinner, making new friends and renewing old friendships.
There was a noise curfew for the camping/kitchen field and those of us were staying up past 10pm headed up to the large marquee for music, singing, poetry and story-telling with a little dancing thrown in.
There was an outdoor fire circle for those who wanted to sit outside and because Sat evening had such a heavy downpour of rain following the afternoon thunderstorm some people were indeed happy to be outside on a dry night. Keep an eye on the Irish Permaculture website for details of next years Gathering, you will not be disappointed if you go.